The 8th J-AIR Network Forum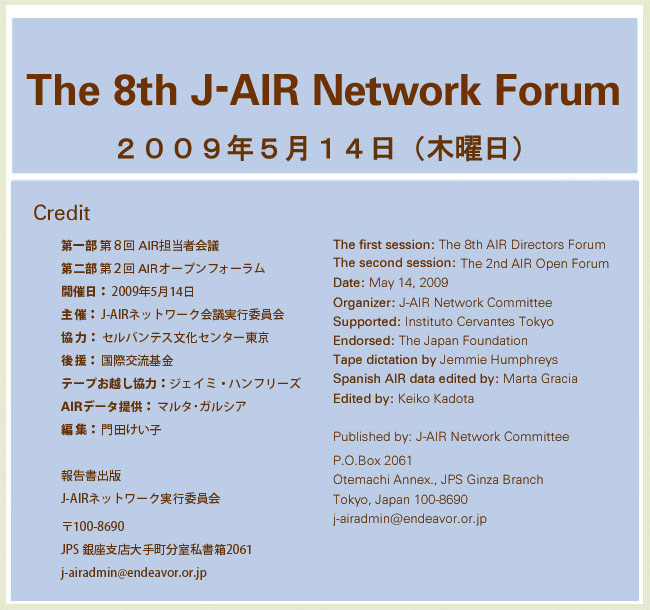 ■第一部 第8回 AIR担当者会議
1. 開催の挨拶
:13:00
田部井美雪氏 セルバンテス文化センター東京
門田けい子 J-AIRネットワーク会議実行委員会代表
2.キーノート
:13:10
ネットワークを超えたネットワーク:グローバル経済下のアートレジデンシー
マリオ A.カロ氏(レス・アルティス代表)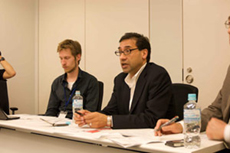 米国NY在住。原住民の現代美術に関する歴史、批評などを専門とし、Res Artis代表のほか、Longhouse Education and Cultural Center理事、Otis College of Art and Designなど米国大学で教鞭をとっている。
このプレゼンテーションにおいて、私はアーティストレジデンスとその文化交流がもたらす「価値」の概念を議論させていただきます。 昨今の世界的な経済危機の中、政府機関や私立財団等からの助成を得るため、多くの芸術団体は、自分達の価値を定量化しなければならない必要性に迫られていると認識しつつあります。 すなわち、「新しい美術の視点を紹介するとか、文化伝統を肯定することにより、我々の生活がより豊かになる。」といった、アートが持つ目に見えない「価値」を強調することばかりでなく、今日の状況は、今まで以上に、数値的かつ定量的な手法でアートの「価値」を伝える必要性に迫られているということです。 私の議論では、自分たちの外にある芸術活動との交流が、如何に我々の経済的な安定につながるかを考えるため、(その距離的な問題は別として)アーティスト達の移動、それに伴う交流を通し、「目に見える価値」を生み出すネットワークの役割について述べたいと思っております。 活動の企画や案件の助けとなり得る美術館、学術機関、民間企業といった団体と提携関係にあるレジデンスの事例を、いくつか紹介したいと思います
English reference No.1 Mario A. Caro Transscription by Youkobo Art Space
NETWORKING BEYOND NETWORKS:ART RESIDENCIES WITHIN A GLOBAL CULTURAL ECONOMY
by Mario A.Caro
ABSTRACT/SUMMARY FOR THE J-AIR FORUM 2009 REPORT
During his talk Mario A.Caro discussed the notion of "value" within the context of artist residences and the cultural exchange they promote. During this global economic crisis, many arts organisations find themselveshaving to quantify their value in order to obtain funding, whether from government organisations or private foundations. While we often emphasize the intangible value the arts offer -enriching our lives by offering new perspectives or affirming cultural traditions- we are now, more than ever, being forced to consider the tangible, numerically quantifiable value of art.
This discussion addressed the role of networks in producing this kind of tangible value through the circulation and exchange of artists (another way of discussing mobility) in order to consider how networking outside our immediate field can be beneficial to our financial stability. For that Mario A.Caro provided examples of residencies that affiliate themselves with museums, academic institutions, and corporations that can help us think beyond our current networking possibilities.
TRANSCRIPTION OF THE TALK
What is the value of the AIR?
The value that AIRs provide is intangible and ephemeral. When we think of economics in general, value is given through the exchange. Cultural institutions (such as museums), art criticisms, the history of art, the art market ? all of these give value to Art.
In the AIR we don't deal in Art but in artists and that is what we exchange. The problem, then, is how to quantify the value of the cultural exchange? In the first page of the conference paper there is the example of a state non-profit institution associated with the New York State Council. In order to justify what they do they have to provide figures such as the number of organisations they deal with, or by showing how they contribute to the economy of the State (jobs, tourism,...) etc.
About strategies to address the financial crisis
I would like to talk about how to survive the financial crisis through collaboration. I will give examples of residencies as part of universities, art centers, and companies. What I want to propose is that instead of waiting for museums or other institutions to establish their residence program, we begin to think about the possibility of approaching them first.
A list of tangible benefits of collaboration:
-sharing spaces- storages, exhibition spaces, etc...
-sharing audiences
-sharing employment costs
-printing and publicity
Example 1: The Longhouse Education and Cultural Center
http://www.evergreen.edu/longhouse/
They support artists who work with traditional media, providing education in ecology and cultural diversity. They are based on thecampus of Evergeen Station College, which has allowed them many advantages, including lowering overhead expenses and gaining access tomany campus facilities, such as galleries and stduios.
Example 2:The John Michael Kohler Arts Center
http://www.jmkac.org/Arts/IndustryProgram
They have a lot of financial resources and a large manufacturing infrastructures that is ideal for producing innovative sculptural projects. They have an AIR program, and have always had an interest in community engagement, having previously initiated a performing arts program, etc... They are thinking very creatively about how to reach their audience.
Art example here in Japan of a creative intersection between industry and art is Naka Incineration
http://www.arch-hiroshima.net/arch-hiroshima/delta_others/naka_e.html
Collaboration through networking
What we do as a network is to bring ideas to cross those kind of boundaries and limitations we often have.(Here Mario publicizes the RES ARTIST meeting in Korea)
The Istanbul Biennal 2005 was conceived as a residence in itself because the artists were asked to te-specific works which required spending a long time exploring and working in a specific place.
How can collaborations be initiated in Japan where structures are more rigid? One possibility is to work ternational level by calling on partners through networks such as Res Artis and the J-AIR Network.
3.質疑応答 宮永郁恵(司会)
:14:00
<事務局コメント>
AIR活動の経済的危機を乗り越える資産価値が、地域社会に繋がるネットワークの中にあると提案するカロ氏の話しを受けて、会場からは、アメリカ社会のネットワークのように、そこまで横断的な協力関係をつくることが難しいなどの意見があった。 また、域内だけでなく海外とのネットワークの活用によって、経費の軽減なども図れるのではないかなどの提案も会場から出た。 確かに金銭的な支援が動きにくくなってきている、今、AIR活動の経済的サバイバルは、今まで以上に、伝統、産業、経済、教育など地域が持つ社会資産とのパートナーシップの取り組みが重要と考えられる。 その関係を作るためにプログラム担当者や責任者は、地域社会に向けて明快な「Value of Arts」の、具体的な関わり方や数値的な指標の説明が求められる。 カロ氏の提案について、掘り下げる時間が不十分であったように思うが、次ぎの会議へと、是非、引継ぎたい。
第二部 第2回 AIRオープンフォーラム
1. 開催の挨拶
:16:00
ビクトル・ウガルテ氏 セルバンテス文化センター東京館長
浅賀正治 J-AIRネットワーク会議実行委員会副代表
岩瀬石彫展覧館・AUR桜川主宰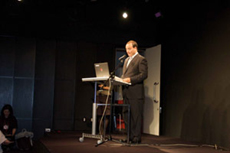 2.プレゼンテーション
:16:20
プレゼンテーション1 「秋吉台国際芸術村の10年」
原田真千子(秋吉台国際芸術村AIR担当)
昨年10周年を迎えた山口県秋吉台のAIR活動の紹介と今後に向けての期待。
プレゼンテーション2 「スペイン、スペイン語圏のAIR調査報告」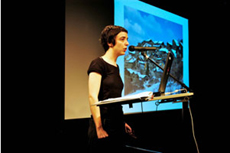 マルタ・グラシア(遊工房アートスペースGIPインターンシッププログラム)
日本のみなさんに、スペインのAIR活動の現状を少しでも紹介できれば、両国のアーティスト相互の交流が、促進されると考え、スペイン、スペイン語圏のAIRの調査データをまとめました。
今回の発表では、主に、美術を中心とした25箇所のAIRデータベースをご紹介いたします。
資料収集に当っては、世界AIRのネットワークを繋ぐRes Artis、国際的なAIR情報センターのTrans Artists、カタロニア地方における創作スペースのネットワークのデータベース、そして、スペインでの個々の文化活動にかかわる担当者やプログラム自身の情報を参照しました。 そして、この機会に、ラテンアメリカ地域(スペイン語圏)のAIRのリストも参考に加えました。
3.パネルディスカッション「世界のレジデンス動向」
17:30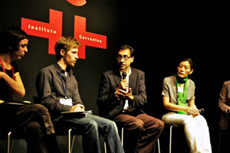 司会:日沼禎子(公立大学法人青森公立大学国際芸術センター青森)
パネリスト:

マルタ・グラシア(遊工房インターンシッププログラム)
ジェイミ・ハンフリーズ(遊工房アートスペース)
マリオ・A・カロ(Res Artis代表)
原田真千子(秋吉台国際芸術村)
村田達彦(遊工房アートスペース代表)
AIR in Spain Reported by Marta Gracia
CATALONIA
1.Fundacio Rodriguez Amat, Garrigoles

URL: www.xtec.cat/~jrodri19/raf-es.htm
Email: fundacio@rodriguez-amat.com
Disciplines: educational programin painting

2.Centre d'art i Natura de Farrera, Farrera

URL: www.farreracan.cat
Email: artinatura@farrera.ddl.net
Disciplines: visual arts, performing arts, music, literature, natural and social research

3.CasaMarles, Llorenc del Penedes (*)

URL: www.casamarles.blogspot.com
Email: pcm1503@hotmail.com
Disciplines: all disciplines, critics and curators

4.Can Serrat, El Bruc

URL: www.canserrat.org
Email: info@canserrat.org
Disciplines: visual arts and literatureg

5.Fundacion Knecht-Drenth, Callosa d'en Sarria

URL: www.fckd-callosa.com/fckd.php
Email: tgh@berenschot.com
Disciplines: visual arts and literature

6.Fundacio Tallers Josep Llorens Artigas,Gallifa

URL: -
Email: fla@lix.intercom.es
Disciplines: Ceramics, Draw ing & Painting, Literature, Stone Carving, Woodcraft

7.Hangar, Barcelona

URL: www.hangar.org
Email: info@hangar.org
Disciplines: all visual arts and sound (special focus on Media Art)

8.Centre d'art La rectoria, Sant Pere Vilamajor

URL: www.centreartrectoria.org
Email: centreartrectoria@gmail.com
Disciplines: all art disciplines, writers and researchers focus in the confluence art, new technologies and nature)

9.Nau Coclea, Camallera

URL: www.naucoclea.com
Email: montserrat@naucoclea.com
Disciplines: all art disciplines (special focus on sound)

10.Experimentem amb l'art, Barcelona

URL: www.experimentem.org
Email: entra@experimentem.org
Disciplines: visual arts, sound and literature (special focus on art and education)

11.Can Xalant,Mataro

URL: www.canxalant.org
Email: infor@canxalant.es
Disciplines: all visual arts and sound

12.LiminalB, Barcelona/Sabadell

URL: www.liminalb.org
Email: fmatelli@liminalb.org
Disciplines: preferably interdisciplinary works

13. Homession, Barcelona

URL: www.homesession.org
Email: info@homesession.org
Disciplines: all art disciplines (special focus on japanes emerging artists)

14. TPK, L'Hospitalet de Llobregat

URL: www.tpkonline.com
Email: tpkonline@tpkonline.com
Disciplines: all visual arts

15.CACIS, Calders

URL: www.cacis.cat
Email: roseroduber@telefonica.net
Disciplines: visual arts, dance, music, literature, architecture... (special focus on Land Art)
BASQUECOUNTRY
16.Arteleku, Donosti/San Sebastian

URL: www.arteleku.net/4.1/index.jsp?idioma=ingles
Email: arteleku@gipuzkoa.net
Disciplines: all visual arts (special focus onMedia Art)

17.Bilbaoarte, Bilbo/Bilbao

URL: www.bilbaoarte.org/eng/index.htm
Email: info@bilbaoarte.org
Disciplines: painting, sculpture, digital immage, photography, engraving, serigraphy, video

18.KREA, Vitoria-Gasteiz (*)

URL: www.kreared.com/es/
Email: info@kreared.com
Disciplines: visual arts, cinema and video, music, literature, dance and theatre

19.TABAKALERA, Donosti (*)

URL: www.tabakalera.eu
Email: tabakalera@tabakalera.eu
Disciplines: all visual arts
ASTURIAS
20.Laboral - Centro de arte y creacion industrial, Gijon

URL: www.laboralcentrodearte.org
Email: education@laboralcentrodearte.org
Disciplines: artists and curators, focus in art, science and new technologies
MADRID
21.Casa de Velazquez,Madrid

URL: www.casadevelazquez.org
Email: info@casadevelazquez.org
Disciplines: Draw ing & Painting, Literature, Media Art, Music, Sculpture
CASTILE- LAMANCHA
22.Instituto Rural de Arte, Alcala de Jucar

URL: www.institutoruraldearte.tk
Email: info@institutoruraldearte.tk
Disciplines: all disciplines
ANDALUSIA
23.Fundacion Valparaiso,Mojacar

URL: -
Email: vparaiso@futurnet.es
Disciplines: Visual arts, sculpture, ceramics, performing arts, textile art, music, literature, new media
VALENCIA
24.Fundacion Inspirarte, Valencia

URL: www.fundacioninspirarte.org/alqueriabases.shtml
Email: info@fundacioninspirarte.org
Disciplines: all disciplines

25.ForjaArteContemporaneo, Valencia

URL: www.forjaarte.es
Email: imapico@forjaarte.es
Disciplines: digital arts
(*) Programs running from 2010