OPEN STUDIO of 2018 Mokuhanga Basic Training Program A

The studio where six participants are engaging in Mokuhanga in the ongoing Residence Program will be open to public on Sunday May 20th. Please visit us!
Date: May 20, 2018 at 2:00 – 4:00 p.m.
Venue: MI-LAB Lake Kawaguchi; 4018, Katsuyama, Fujikawaguchiko-cho, Minami-Tsurugun, Yamanashi, JAPAN
Map: http://endeavor.or.jp/mi-lab/access/
Admission free
*Please make reservation calling to Tel. 090-6104-0871 Or contact by e-mail.
2012年より開催してまいりました「国際木版画ラボラトリー・アーティスト・イン・レジデンス」は、富士河口湖町および近隣の皆様のご協力のもと今年で6年目を迎え、これまで30か国延べ89名のアーティストが滞在していきました。
本年最初のレジデンスプログラムでは、アメリカ・イギリス・オランダ各国からの6名のアーティストが日本伝統の木版画技法を学び、作品を制作しています。そのアトリエを今回オープンスタジオとして開放いたします。海外の人たちによる、浮世絵でおなじみの木版画作品は個性あふれる現代アートとしても楽しめます。ぜひ遊びにいらいしてください。また、アーティストとの交流も大歓迎です。
日 時 2018年5月20日(日)14:00~16:00
場 所 富士河口湖町勝山4018番地 国際木版画ラボラトリー
入場無料
*参加ご希望の方はご一報いただければ幸いです。
Tel. 090-6104-0871 (佐藤)またはコンタクトフォームへご連絡ください。
---
2018 Mokuhanga Basic Training Program A
2018's first Residence: Basic Training Program A has been started! The following 6 artists will have been staying and working at Lake Kawaguchi from April 22 to May 26, 2018.
Célline Gabriëlle Lamée (The Netherlands)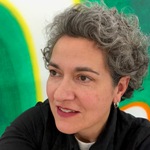 Julie Scelton-Snyder (USA)
Kate Yolanda Leney (UK)
Kathryn Desforges (UK)
Kerry Corcoran (USA)
Kristi Arnold (USA)
---
Registration
To receive the most recent information from us, please complete a registration form and send it to us by e-mail, at the same time telling us the year and the program in which you are interested. On receipt of your application, we will in due course send to you by e-mail the latest timetable and other information. 
To download the registration form, please click here(PDF) or here(DOCX).