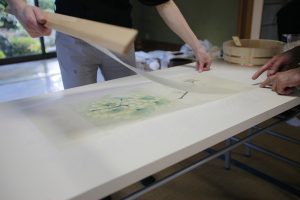 Schedule:
24 – 27 July, 2017 (available)
About the Workshop:
Designed for anyone who is interested in Japanese paper mounting and bookbinding techniques, this 4-day workshop will teach you the basics. On the first day, you will print a carved block by mokuhanga and mount the work with a sheet of washi. You will then learn the basics of Japanese bookbinding techniques step by step. The workshop includes a visit to old bookshops in Jimbocho and Ozu Washi in which you can purchase various kinds of washi. You will be able to bind your own book by the end of this workshop.
Tutor: Tetsuo Soyama
Venue: CfSHE Gallery in Tokyo
Fee: 75,600 yen (including VAT)
Number of attendees: 2 – 4 people
– Application of each program will be accepted on a first-come-first-served basis until it reaches 4 participants.
– Application Deadline is 4 weeks before the program for which you will apply.
– Applicants will receive an e-mail of confirmation and invoice from us soon after you complete a registration.
– Participants will be asked to pay the amount by PayPal. (We would ask you to kindly bare the cost of handling charge)
– If the number of participants doesn't reach 2 by four weeks before the program, we will cancel the program and refund the full amount.
– MI-LAB will provide participants with basic tools and materials during the program.
Tutor's Biography:
Born in Nigata in 1951, Tetsuo Soyama studied printmaking under a printer Saito Kusuo at silk-screen workshop Saito Process. In 1984, he founded Fuji Graphics Printmaking Studio in Tokyo with Toshio Soyama, with whom he has printed for a number of international projects and commissions from high-profiled artists and designers. In 1988, he participated in Nagasawa Art Park residency and studied mokuhanga.
To Apply
Please download and fill in the application form (click to download) and send it to us by e-mail to: infodesk(a)endeavor.or.jp In your e-mail, please specify which period of the program you are applying for. The following schedules are currently available.
24 – 27 July, 2017 (available)